Block title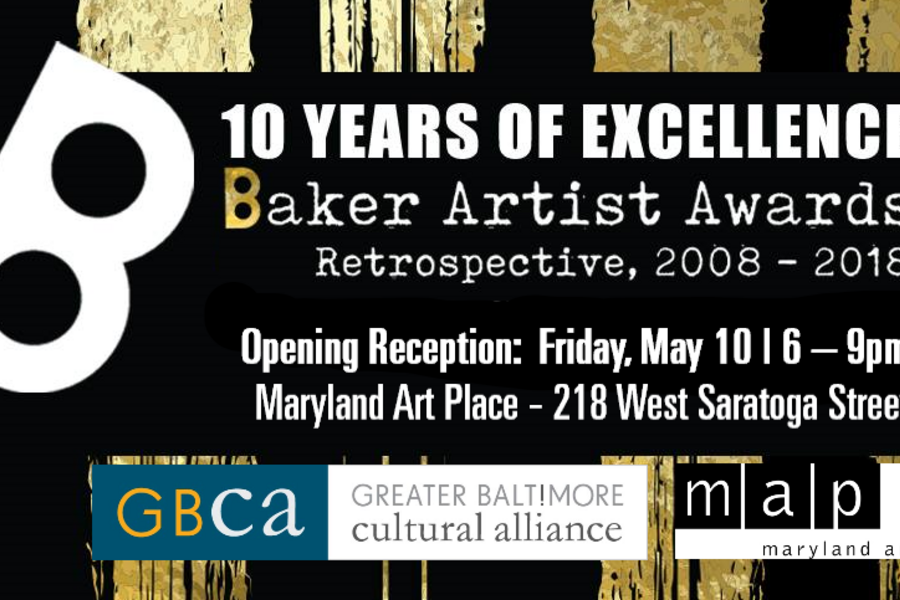 May 10, 6:00pm

to

Jun 15, 11:00am
10 Years of Excellence: Baker Artist Awards: 2008 - 2018
On View: May 10 | June 15, 2019
Opening Reception:  Friday, May 10 | 6pm – 9pm
Maryland Art Place 
218 W. Saratoga Street
In partnership with Maryland Art Place, the William G. Baker, Jr. Memorial Fund and the Greater Baltimore Cultural Alliance, Maryland Art Place celebrates 10 years of the Baker Artist Awards with a new exhibition featuring over 30 recipients of the Mary Sawyers Baker and Mary Sawyers Imboden Prizes, 
 Since 2008, the Baker Artist Awards have recognized over 100 artists in the Baltimore region and awarded over $900,000 in prize money to artists working in all disciplines who exemplify excellence in three areas: Mastery of Craft, Depth of Artistic Exploration and a Unique Vision.
Participating Artists: Susan Alcorn, Theo Anthony, Chris Bathgate, Abraham Burickson, Richard Cleaver, Brent Crothers, Elizabeth Dickinson, Sara Dittrich, Eric Dyer, Lafayette Gilchrist, Jen Grow, Carl Grubbs,  Alexander Heilner, Gary Kachadourian, David Knopp, Jonathan Latiano, Naoko Maeshiba, Dora Malech, Todd Marcus, David Marion, Peter Minkler, Lynne Parks, Margaret Rorison, John Ruppert, Joyce J. Scott, Hadieh Shafie,  Lisi Stoessel , and Karen Yasinsky.
Each year, Baker Artist Awardees are selected by a private jury from up to 1000 artists who create a portfolio on the Baker Artist Portfolioswebsite, which was created to support artists and promote Greater Baltimore as a strong creative community. The online portfolios are open to artists working in all disciplines who live and work in Baltimore City and its five surrounding counties. The portfolios expose area artists' work to regional, national and international audiences. The site has been viewed by hundreds of thousands of art lovers, critics, gallery owners, academics, and leaders in creative business in nearly every country around the globe.
To learn more, or view all of the Baker portfolios, please visit www.bakerartist.org  
Maryland Art Place
218 W. Saratoga Street
Be Part of the Art
Create your portfolio or curate a collection of your favorite work.
Already registered? Login