Work samples
Video Compilation Reel

Duration: 05:57
This comp reel represents excerpts of work dating from a recent work-in-progress, to earlier pieces created in 2009.

Spirits of Promise and Loss

2020
Multi-channel video installation with audio
Gallery installation view (multiple angles)
Duration: 02:37
Dimensions: 4' x 40'


Boxed

2017
2-channel Video Installation (Loop 2:25) Variable Dimensions, Approx: 11' x 27' x 8'
Performers: Mandy Morrison, Samantha Siegel, Tiara Francis
Director of Photography: Adan Rodriquez


As the American proclivity of success and achievement is partially defined by home-ownership, and at the very least 'having a roof over one's head', living apart from this norm, segregates those who have neither and casts them as 'disposable'. Just as used and unwanted furniture is left in the street for garbage pick-up, those who are unable to participate in consumerist class 'norms' are viewed as unclean and-in turn- unworthy outcasts; victims of their corporeal existence. Unable to benefit from or participate in the 'disruptive' digital age, they exist in the marginal 'cracks' of exterior physical spaces.

In the performative video work being presented here I am contrasting some of these overarching structural 'cracks 'against the corporeal. By playing with disposable materials (cardboard) that can also serve as temporary shelter-structures (boxes), or moving materials, and using distressed furnishings, as a form of clothing or armature, I play with ideas about invisibility, protection, vulnerability, and exposure. I am also using my body as a vehicle to represent decay and the inevitable entropy of the flesh. Working alongside other performers, I am conscious of how temporary structures, flesh and detritus operate collectively as a stand-in for the marginalized elements of the larger collective.

Housekeeping

2018

TRT: 1:32 Single-Channel Video Installation 12' x 24.5'
Password: clean


Performers: Mandy Morrison, Tiara Francis, Sammantha Siegle
In my most recent video and installation Housekeeping, I reference the slapstick comedy of silent films. In them, the protagonists are often working people, encountering circumstances that challenge their human limitations or undermine their efforts at keeping up with expectations. In Charlie Chaplin's Modern Times, the assembly-line pace far outstrips the character's ability to keep-up and adhere to what is required.

In Housekeeping the protagonist is a middle-aged professional woman who is being challenged by youth, class and time itself. Seated placidly and alone in a hotel room, she is, at alternate moments, in situ with a pair of young hotel maids who are straightening her bedspread, beating her with brooms or mopping her naked body on a bathroom floor. The background audio plays an ad for anti-aging products, along with the sounds of running water.

This aging female's professional body ricochets between poses of entitlement, invisibility, interclass intimacy and naked combat against young uniformed domestic workers in their attempt to smooth, clean, embrace or destroy her.
About Mandy
Baltimore City - Station North A&E District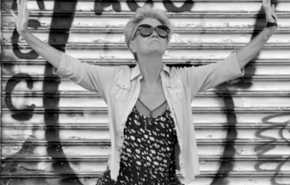 My practice in video and performance derives from an interest in how the body is informed by class, labor and mobility. This stems from my earliest years being raised  by domestic workers, who were relied upon for stability and support. Growing up, we moved across the country several times, following my father's advertising career whose commercial car ads were filmed in remote Western landscapes.  These ads sponsored television Westerns influencing my impressions of the U.S. West; both how… more