Work samples
Armageddon 2 - Excerpt #1

Excerpt from: Armageddon 2 (2017) Hybrid Documentary Short Film. Writer, Director, Cinematographer, Editor. Synopsis: The internet in Cuba is very slow. Movies, television, and information are exchanged through a black market system of media distribution via external hard drives known as "el paquete semanal." Shot over the course of a day in the town of San Antonio de los Baños, the film combines narrative, documentary, and experimental elements to create, like the paquete itself, new images and new connections between distant and unseen forces. A meditation on the flow of data and the search for human connection in a groundless world.



Chiffon "Woke Me" - Excerpt #2

Excerpt from: Chiffon "Woke Me"(2020) Music Video. Director & Editor. Synopsis: Filmed in one night at the "The Compound" right before lockdown, "Woke Me" re-creates the feeling of wandering through a party late at night, thinking about other things, and then being brought back into the present moment by the people around you. It's a celebration of the dancers, performers, artists, and musicians in Baltimore and the collaborative creative energy of the city.

My Expanded View - Excerpt #3

Excerpt from: My Expanded View (2018) Experimental Short Film. Writer, Director, Cinematographer, Editor. Synopsis: A YouTube Yoga tutorial. A collapsed body. An expanded view. "My Expanded View" uses the format of a YouTube yoga tutorial and it's collapse as a basis for exploration of new age spirituality, domestic surveillance, and camera technologies. How do we document the body and who is doing the documenting? Commissioned by Adult Swim for an episode of "Off the Air" curated by Baltimore based performance group Wham City Comedy.

Crestone - Official Trailer - Excerpt #4

Trailer for: Crestone (2020) - 72 mins. Cinematographer and co-writer for Crestone, a hybrid-documentary feature film directed by Marnie Ellen Hertzler. Produced by MEMORY. Distributed by UTOPIA. Original Score by ANIMAL COLLECTIVE. Synopsis: In a world that undulates between fact and fiction, digital and physical, a group of SoundCloud rappers lives a solitary, post-societal existence in the desert town of Crestone, Colorado. Once a religious and spiritual mecca for many, Crestone's endless sand dunes, waterfalls, and dark caves act as a backdrop for images of tattooed bodies, cosplay wardrobes, and clouds of weed smoke. "Crestone" explores the often hidden aspects of collaboration and friendship as well as the human desire to persist against all odds. What does music sound like if there is no one left to repost and share it?
About Corey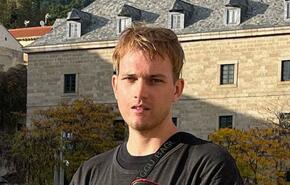 Corey Hughes (b. 1992) is a Baltimore based director and cinematographer whose work exists in between narrative, documentary, and experimental forms. His work has premiered at International Film Festival Rotterdam, SXSW, New York Film Festival, Maryland Film Festival, and Locarno Film Festival, where he was awarded the Pardi di Domani Special Jury Prize for the short film "
Armageddon 2
."

As a cinematographer, his credits include Theo Anthony's 
…
more