Work samples
Clip from Reverse Cascade

The artist performs one of her circus acts, when she is again "attacked" by something mysterious that breaks down her body's ability to perform. She will later find out that she has Multiple Sclerosis and her ability to perform will completely disappear.


Puppeteers: Karen Huizingh, Gavin Cummins, John Cody, Krista Weltner, Dana Samborski and Austin Costello.
Musicians: Michael Albaine and Nick Trautmann
Directed by Anna Fitzgerald
Devised by Anna Fitzgerad, Karen Huizingh, Gavin Cummins, John Cody, Krista Weltner, Sarah Nolen, Chris Mullens, Dana Samborski and Austin Costello.
With help and consultation from Judy Finelli.

Adventures clip

A clown finds herself on stage with an audience who wants to see a show. With just her few suitcases of stuff, her imagination, and her stories, she creates a show before their very eyes. Adventures! celebrates stories, the most valuable things we have. It encourages children to use whatever vocabulary most speaks to them to share their stories, and ends with the hope that they will be on stage next telling their important truths.

The Story of Purim

Performed at the Creative Alliance in Baltimore, Spring 2015.

As part of the celebration of the Jewish holiday of Purim, it is said that we must retell the story of Esther and the King. Commissioned to be the storyteller for this Purim celebration, I turned to objects that would be used at a feast (one way we celebrate Purim is by eating and drinking!). With silver bowls, serving forks, muffin tins, and pitchers, I use clowning and object performance to tell the - sometimes problematic - story of Purim.
About Anna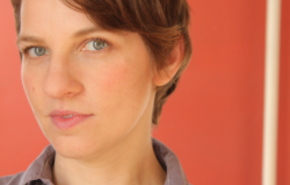 I am a puppeteer and a performer. I tell stories with objects, bridging the tangible and intangible, the animate and inanimate, the dead and the living. Here's more about me, but spoken in the third person.

Anna Fitzgerald is an award winning puppeteer based in Baltimore, MD with a Masters in Fine Arts degree in Puppet Arts from the University of Connecticut. She is the artistic director of Red Ball Theatre Company. She… more