Work samples
Sky Buy

"Sky Buy" is an experimental video conceived as a dream collage. My intent was to arrange a set of images with all the logic and shifting pacing of a dreamscape. In the principal scenes, various artifacts of TV media are subjected to a forceful purifying water barrage. I collaborated with computer animator Francisco Olivares to create a waterspout sequence designed to overwhelm a series of abstracted scenes drawn from commercial media. A second animated water sequence depicts the flooding of the physical detritus of our media infrastructure. Additional footage includes night driving, two plazas in Madrid, an ocean buoy, driving in the rain, and a Klezmer band. Elliott Grabill provided principal sound/music sequences.

Cicada Songs II



"Cicada Songs" demonstrates my ongoing interest in rhythmic collage. As in earlier such works, I adamantly maintain a few ground rules related to the gathering of audio and visual material utilized in the final work: 1) there is no overdubbing of audio material; that is, all sounds heard are those originally recorded during video shooting; 2) no manipulations to either audio or visual material occurs during editing; that is, although sequences of video material are often re-scaled and layered together, I haven't altered the image or sound quality of any individual shot. In short, I am drawn to the idea of creating a kind of rhythmic collage by using all the raw, ambient audio that originally accompanied the visual footage I shot in the field. For this piece, I shot all source material the summer of 2004 during the cicada visitation to the Baltimore area. Their sound is present in all audio I recorded, and so I titled the piece accordingly.
 (Video artist Walter Ungerer comments: I found this film to be very engaging. It's construction is similar to Vin Grabill's Barcelona Mosaics, but it has a life beyond the measured complexity of Barcelona Mosaics.)

11 Time Paintings

I think of my video art as painting in time. "11 Time Paintings" presents a series of short visual music sketches produced utilizing a range of rhythmic editing techniques. The audio always originates with the original ambient sound recorded at the time the video was shot. My intent is to create a visceral effect where a distinct sound/image "brushstroke" occurs with each edit - no additional sound tracks are added.

"Frontier" (excerpt)

My intent for "Frontier" was to create a visually-rich abstract environment by blending together a wide assortment of source footage, ranging from natural phenomena (water, sky, etc.), to rapidly-scanned street scenes, to manipulated faces shot off a television screen. Central to the visual field is a slowly moving window frame structure that allows for different visual sequences to be seen together, both inside and outside of the "window" cut outs.
About Vin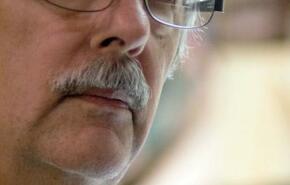 I began painting 40 years ago, and I switched primarily to working in video about 30 years ago. While I often return to painting, I remain fascinated with the power and flexibility of the video medium. As it advances technologically, video continues to provide me with the means to "paint in time". The impact and quality of the still image is still very important to me, however, and I choose to display many still frames from my videos here in these project arrays.
I've been creating…
more