Work samples
BALTIMORE (4m excerpt)

BALTIMORE (2021) is a 22m nonfiction film that catalogs the landscapes and architecture of the filmmaker's hometown of Baltimore City. Personal and observational, this 16mm film, shot from 2016 to 2018, explores exterior spaces, material and psychic fragments of historic buildings, many of which have been demolished or renovated since the completion of the film. Sound compositions by electronic musician, Bonnie Jones. All footage was shot with a 16mm Bolex Camera from June 2016 - July 2018. This project was funded by a 2016 Rubys Artist Project Grant, The Maryland State Arts Council Creativity Grant, and an Interbay Cinema Society Lightpress Grant.



Memory of August (2m excerpt)

Memory of August (2017) is a short 16mm film that was shot and edited in-camera with a hand-cranked 16mm Bolex camera. This film documents intimate spaces of time spent with my grandmother, Margaret, who had Alzheimer's and was living temporarily in a rehabilitation center at the time. This was the first portrait film I made of her, which has led to a larger work in progress called, THREE RIVERS.


departure (excerpt)

departure (2020) incorporates the alternative 19th C. cyanotype process with my passion for 16mm film and darkroom experimentation. For this short projection performance, I created handmade 16mm cyanotype film loops by coating clear leader with cyanotype iron based emulsion, then created a contact print using the original black and white negative and the coated film strips to create a final positive cyanotype image.

This excerpt is a digitized version of a dual 16mm projection performance I created with the handmade cyanotype 16mm film loops. As the two projectors ran, I incorporated a live soundtrack and amplified the motors of the projectors using contact microphones.

The cyanotype images are of my mother and sister. The audio is taken from a recorded conversation between my grandmother and myself during her final stages of Alzheimer's. This piece is an acknowledgment to the women in my family.

About Margaret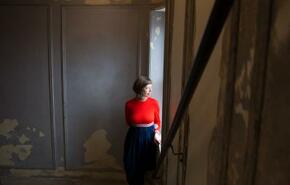 Margaret Rorison is filmmaker, projectionist, educator, and curator from Baltimore, MD.  Her work aims to support and preserve contemporary filmmakers and film culture.  Her current work focuses on portraiture, memory, and the precarity and beauty of nature. Her work has been exhibited at Anthology Film Archives, Miami PULSE Art Fair, Microscope Gallery, The Museum of The Moving Image, The National Gallery of Art, and The Walker Art Center. Her short films have shown at festivals including The …
more