About Liz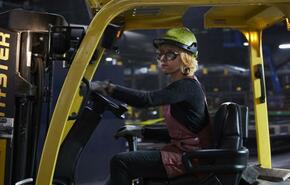 LIZ ENSZ was born in Minnesota to a resourceful family of penny-savers, metal scrappers, and curators of cast-offs. Liz received a BFA in Fiber from the Maryland Institute College of Art (2005), and an MFA in Fiber and Material Studies from the School of the Art Institute of Chicago (2013). With an interdisciplinary approach, their work presents a comparative study of the mass-cultural investment in disposability and the human desire to imagine permanence through emblems, monuments, and…
more
ANTHROPOCENE MONUMENTS
ARTIST STATEMENT
My research examines the designed and found icons of the American character in search of our underlying values and our aspirations as individuals and as a society. These ideals are visible as monumental forms, but also camouflaged in mundane ubiquity. Themes within the work- the economic flows of resources, moral and material conundrums, and the legacy of empire- are touchstones that constellate to destabilize and complicate what may have been seen as our foundational ideals.
I present a comparative study of the mass-cultural investment in disposability and the human desire to imagine permanence through emblems, monuments, and self-celebration. While disparate intentions inform these impulses- one to remember, and the other to quickly forget- each will materially describe our society to future generations. Through this lens, I explore the complexities of the American landscape, human-scale and geological-scale time and space, and the ways in which the constructed environment rivals that of the natural environment. Our physical material footprint will outlive the emblems designed to signify our political and moral ideals to stand as our lasting cultural monument and define the Contemporary American Sublime.
My sculptural and installation works borrow from the visual language of memorial and commemoration in textiles and metals. These Anthropocene-Era Commemoratives contrast human-scale and geological-scale time and space as part of the continual unfolding and cycling of matter and the transformation of landscape. My installations are arranged differently each time they are installed, often integrating locally sourced found materials. This contemplative combination of materials becomes existential, questioning the solidity and permanence of both nature and culture, and implicating the local community in a global conversation about materials.
PROVISIONAL LANDSCAPES
The history of the Earth is legible as a layered stratagraphic chronicle of millions of years of events. Our planet is a massive physical document of cosmic exchanges, traces of the stages of developing life, shifts in bodies of land and water, and monumental mass extinctions. The Anthropocene stratum will document human kind's various accumulative and reductive alterations to the Earth that have been fueled by a search for the mineral and material wealth deposited and condensed matter within these embodied past aeons.
I examine the human role of shaping the current geological era and its possible interpretations as a chronicle of our activity, these works that question our impulse to alter the Earth's story through the rearrangement of past accumulations of matter and what our existence and the scale of our actions mean in terms of a geological time scale.
VALUE STUDIES
2014 (ongoing), cast pre-Reagan pennies, steel stand, custom hardware, 5" x 5" x 6"
VALUE STUDIES
As the smallest unit of our currency, the penny is often seen as worthless. People often forget that they are legal tender, sweep them out of dusty corners and either throw them away with the trash or gather them in jars to cash in for higher units of currency.
I had personal relationship with the penny from a young age. As a child that grew up poor in the 1980's, I have crisp memories of lugging full pockets of pennies to the corner store to buy candy. My mom and I would walk every morning around the parking lots of our massive apartment complex on the way to the bus stop, picking up pennies that people had dropped as they got out of their cars. It was a fun game for a kid.
Now I am an avid coin collector, in fact, exclusively a penny collector. I have been working to add value to them by finding alternative uses. I see the penny is a plentiful raw material that, with minimal labor, can be granted utility in many ways: as a mounting bracket for flags, a rear-view bike mirror, as washers and shims, and more. There are plenty of actual penny hoarders out there, collecting them to melt them down for the copper and double their value. Rather, my interest in the penny lies more in the realm of conceptual art.
The Lincoln Memorial Cents bear a portrait on the obverse side. I like to imagine the penny as representing one person, "an individual," with inherent worth, but often unvalued singularly. However, the multitude commands more attention. En masse, their value has more of a visible presence.
As the price of copper rose during the early years of the Reagan presidency, the penny's composition was changed from 95% copper to 97.5% zinc with just copper plating. These pennies may have the same outward appearance, but as an artist interested in using material as metaphor, I see this move in odd synchronicity to Reagan's spending cuts to social programs and incentives for big business. The idea of the penny remained in tact, as did the promise of the American Dream, and the Reagan era of conservative social and economic change left the poor with a great deal of patriotism, but not much substance in their pockets.
My rethinking of the penny stems from an interest in revaluing the American people. My design replaces the profile of Lincoln with the profile of Reagan, symbolizing the shifts in economic and social values in our country during his presidency. This summer, as an Art of Engraving scholarship recipient at the American Numismatic Association's Summer Seminar, I began engraving this die for the obverse side of the coin. On the reverse, there will be an image of a sunrise with radiant beams of light and the text Morning in America, a hopeful slogan from Reagan's 1984 Presidential campaign.
The penny is already controversial, it costs about twice its face value to produce, the general public considers them without worth, it isn't accepted in vending machines, and there has even been talk of its discontinuation. With my Reagan Penny, I hope to stir up partisan positions on the value of an individual, the class issues surrounding Ronald Reagan's presidency, and the penny itself.