Work samples
The Process of Restoration | KOLPEACE

The Process of Restoration is a performative, engaging process that combines music and visual art together using swift movements similar to "line dancing" and hip hop to create my unique aesthetic of art in motion. It is a combination of musicians, model, and crowd participation and a cinematographer. It is a process to start something in life and feel restorative from that feeling of completion. This was my goal during this moment. The canvas starts off blank and moves through a self reflective process of the person looking at their own path and process to ultimately restore.
About Christopher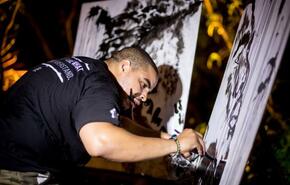 Christopher "
k
olpeace" Johnson is a artist,  known for his live soul performative portraits , South Carolina Born and Raised currently residing in Baltimore, MD. His live performative 
soul portrait painting(s)
 intersects his studio practice and graffiti style documentation via video(s) & photo(s) in galleries, stage(s), and community settings.  The artist 
"kolpeace"
  reflects his black southern culture through a…
more