Work samples
The Lunatics

While searching for "animals of alien origin" in deep space, a crew of astronauts discover it's all fun and games until someone breaks the gravity generator.

This animation was made using cut paper puppets on a homemade multiplane camera stand. I created the audio and sound effects. The Lunatics has screened at several festivals.

Brood X

A short animation commemorating the summer of 2021, and our cicada invaders. This was commissioned for the Denver Digerati Silent Screen festival, which ran in September 2021. I then wrote, recorded and added the music to this version.

Indigo Music Video

I was commissioned by the 2020 Sweaty Eyeballs animation festival to make "Indigo" for the Baltimore band WUME. I constructed a visual narrative around the lyrics from the song, and animated "live" drawings as the music in the video progressed. The scroll drawing ended up being 50' long.

The Benefits of Radiation

The Benefits of Radiation is hand drawn animation that tells the backstory of some of my sculpture figures (which can be viewed elsewhere in this portfolio). I recorded the bar sounds at the Hamilton Tavern in Baltimore, and produced all the foley, sound effects and musical accompaniment in my studio. This has been screened at Maryland Art Place, the JHU/MICA "Made in Baltimore" festival, and the Sweaty Eyeballs 2021 animation festival.
About Jim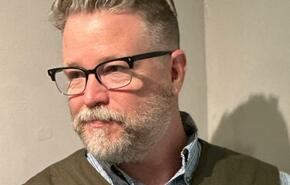 I am an interdisciplinary filmmaker exploring themes of metaphysics, identity, and humor through the mediums of animation, illustration, assemblage,  and sound. My body of work consists of tiny, cut paper dioramas in discarded objects (metal boxes, watches, tins, spoons, etc.), large drawings on Tyvek and scrolls of paper, hand drawn stop motion animation, and sound recordings consisting of composed music, tape loops, and musique concrète.

I identify… more