Work samples
Something Dull That Must Be Abandoned (Test Video)

Something Dull That Must Be Abandoned (Test Video). 2:38 Experimental dance/movement video and collage work. I filmed and edited this in Baltimore, in September 2020. Reaching the age of 44 last year, and after decades of expressing myself through song, I realized I wanted to be a dancer. I have found that expressive movement is also a creative way to deal with lingering trauma from a violent car wreck. I was inspired to set up my projector, use a projected image of artwork I had created to accompany this song from my album, "Collage" (released 4/1/2020), and experiment with repetitive movement.

Portraits in song by ellen cherry || Promotional video

This is an early performance of "Portraits in Song" at the Creative Alliance in Baltimore, MD, in March 2016.

"Pickett's Charge" by ellen cherry; crankie by Katherine Fahey

Pickett's Charge is a song I wrote when I was thinking about both of these human endeavors: war and astronomy. The crankie was a commissioned shadow puppet piece created by Katherine Fahey. This video was filmed by Michael Patrick O'Leary.

Betty by ellen cherry

I made this during a big snowstorm in Baltimore, January 2016. The music is from my "Portraits in Song" project and album and features a song about a frustrated home-manager, Betty.
About ellen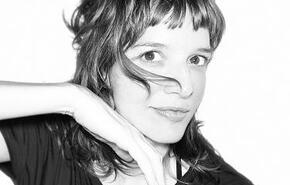 Emmy-nominated ellen cherry (lowercase letters intentional!) is the performing moniker of Kristin Putchinski, an award winning song and story alchemist, musician and performer, based in Baltimore, MD. Mixing equal parts of pathos and humor throughout her songs, ellen cherry's banter gives audiences a peek into a whimsical, curious mind. A recent project was a touring program (2016-2018) called Portraits in Song that… more