Work samples
Foreign Exchange

Using a collection of banknotes and sand gathered from over 50 countries, "Foreign Exchange" looks like nothing you have seen before, taking you into a tiny world of dazzling details. What you observe there, and the meaning you derive from that observation depends on where you start your journey. Look closely, it's all in the details...


Uncanny Bodies

Uncanny Bodies draws on the artistry of scientific documentarians like Robert Hooke and F. Percy Smith, who revealed the wonders of microscopic structures and beings through the technology of their times. For me, working with sand means contemplating the significance of the individual. On a microscopic scale, the movement of one small grain can ripple down the length of a beach, can tilt the world on its axis. When I inspect these trivial fragments of geological history, I find their inner autonomy. By shrinking time, I discover complex relationships within their small communities, which the human eye is too impatient to see. Carefully constructing an intimate environment for them, I coax them to reveal their gravity and impulse. This is the science-magic of the animator, to discover the invisible life in the overlooked, offering the possibility of significance to the diminutive.

Sound by Jason Charney


EyeofDjerba_Parks001.jpg

Eye of Djerba is an original site specific interactive installation with light, sand, and projection created for the International Media Arts Biennial SEE DJERBA on the island of Djerba in Tunisia. The work asks viewers to look closely and consider the metaphorical worth of a single grain of sand within a global context. Viewers control a microscope camera to examine grains of sand from Djerba, enlarging the tiny grains to a human scale as they are projected on the facade of the St Nicholas Greek Orthodox Church in Houmet Souk.

Snow Beach - UNDARK Festival

Snow Beach is an original site specific interactive installation with light, sand, and projection created for the UnDark Festival in Yekaterinburg, Russia. Snow Beach explores the connection between sand and snow as a touristic draw and economic resource. Using sand collected from beach renourishment projects along the eastern seaboard of the USA, I recreate the movement of the ocean waves, projecting them on the surface of man-made snow at the Уктус ski area in land-locked Yekaterinburg, Russia. The location and atmosphere of the installation invites relaxation and play while pointing to societal efforts to maintain recreation environments that are dependent on the ecological cycles of natural replenishment threatened by climate change.
About Corrie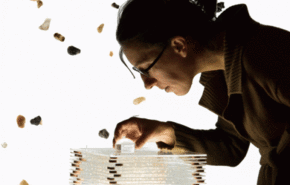 Corrie Francis Parks brings life to the inanimate through frame-by-frame manipulation of physical materials. With one hand under the camera and the other on the computer keyboard, her films and installations maintain an organic connection to traditional production methods while fully integrating digital technology.
Corrie received her B.A. from Dartmouth College and her MFA from University of Southern California. Now an Associate… more