Work samples
R/J (Strand Theater, 2023)

Role: Director. R/J was an adaptation of Romeo & Juliet conceived by O'Malley Steuerman and Betse Lyons, adapted script by Aladrian Crowder Wetzel and Elizabeth Ung, as well as significant contributions from the acting ensemble. Centering queer experiences and bodies of many genders and shapes, R/J both updated and re-explored the original text in a way that reminded us all why that play is so enduring. With a passion to have audiences both hear and see new text and original text with new ears and eyes, we worked hard to blend contemporary and original heightened text, to uncover and uplift queerness in every part of the world of the play, and be body enthusiasts in our design and staging elements.

Katalepsis (Submersive Productions, 2023)

Role: Core Team member with a focus on acting and dramaturgy/world-building. While performed in the spring of 2023, Katalepsis was originally conceived in 2019, which was deeply ironic given that the narrative centered on artists isolated by a deadly pandemic. In the most simplest terms, Katalepsis was about humans who find themselves living in a time when humans are no longer the dominant species, and how we find ways to connect to each other when most paths to connection are gone. Our longest devising period by far, the process of creating the show often paralleled our own emotional and physical journey through the pandemic.

Excerpt from HT Darling's Incredible Musaeum (Submersive Productions, 2017)

Excerpt from HT Darling's Incredible Musaeum (Submersive Productions, 2017)
Role: Co-Director (Performance) with Lisi Stoessel and Susan Stroupe. "The Mastodon Scene" is the culminating scene of the two-hour devised, immersive production of HT DARLING'S INCREDIBLE MUSAEUM. This scene was the first time all the characters and audience were in the same space, where all the narrative threads came together for the end of the narrative of the two protagonists (Trustina Sabah's Aku Maxilla/The Humanoid Specimen & Sarah Olmsted Thomas' HT Darling). Although the show did not end here, the largely wordless movement sequence was very much felt as the "climax" of the show.

This scene was also the culmination of months of collaborative ensemble work; it was collaboratively choreographed, using content and research from many different parts of our process. My role, as Director of Performance, was to organize how the piece was being choreographed, giving structure and guidance to the performers to make sure we were telling the story we wanted to tell, that we were deeply investigating what the end of the narratives of our two protagonists would be, what we wanted to leave the audience with, and how we could convey the whole narrative using only bodies moving in space, gestures, and a giant mastodon puppet. Additionally, we needed to add a small bit of text from the character of Aku Maxilla, and I worked with the performer Trustina Sabah to help her clarify and essentialize what her character wanted to say. Watching this scene every night was one of my favorite aspects of being a part of this production--I am so proud of the immense collaborative efforts of everyone on the HT Darling team.

The Goodies (based on the Salem Witch Trials, 2017)

The Goodies (based on the Salem Witch Trials, 2017) Role: Conceiver & Director. THE GOODIES was an ensemble devised play, produced by Iron Crow theater in 2017. The concept was of a modern retelling of the Salem Witch Trials, through the lens of contemporary racism, and what has now come to be called "cancel culture."

With a cast of all women of color, we started with the question: "What if we believed the teenage girl accusers of Salem?" and, as an ensemble, created characters and wrote a script about a group of high school girls who mysteriously become ill due to the racism they experience in school, and the complex and tragic way of the adults in their lives preferred to shut them up by purging the "racists" from the school and saying it was fixed, rather than dig deeper to uproot the system of racism that poisoned everyone.

The above image is from towards the end of the play, when the world, through Twitter (represented by illustrated projections and sticky notes the actors "posted" to their own bodies), suddenly turns on the girls after previously pushing them to keep naming racists. Actors featured here are (back row L-R): Elizabeth Ung, Alex Reeves, Aladrian Wetzel, Danie Harrow; (front row L-R): Dana Woodson, Jess Rivera.

As a white artist who conceived and directed this piece, I knew that I needed to have the cast of actors of color lead this process--it was their personal stories and experiences that became fictionalized and tied together into a narrative, and while it was a very difficult play for them to perform and for audiences to experience, I believe everyone (including myself) walked away forever changed. My desire was for what I knew to would be a majority white audience to feel implicated at some point, to reexamine how they view the Salem Witch Trials: not as religious fanatics gone insane (something that liberal white people can easily distance ourselves from), but a highly intelligent, purity-pursuing modern people, from whom the White people of the US have inherited the majority of our culture.


About Susan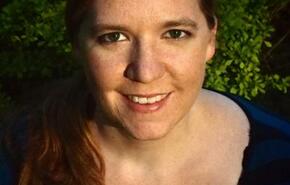 Susan Stroupe is a collaborative theater maker, primarily working as a director, ensemble deviser, and teaching artist, who specializes in immersive and devised works of theater, often performed in non-traditional spaces.  Throughout her career, Stroupe has also worked as a director, performer, writer, puppeteer, teacher, and collaborator in professional and professional community-based projects, with actors and nonactors of many ages and many abilities and disabilities, all around the country…
more