Work samples
Steven Leyva

Sept, 2019 reading for Little Patuxent Review, reading selections from The Understudy's Handbook

Writing Sample from The Understudys Handbook.pdf

A selection of six poems from THE UNDERSTUDY'S HANDBOOK, A full length collection of poems deeply focused on performance, and how we are often prepared for various roles in society, but then not allowed to play those roles. The book explores these themes through a varitey of poetic forms, which are represented here.

Nerd Volta Sequential Imagination.pdf

As part of my ongoing literary column NERD VOLTA, published by the Washington Independent Review of Books, I wrote about the intersection between comic books and poetry, and what poets could learn by studying comic books. The article in full can be found here, and is an example of the work I am writing for NERD VOLTA
About Steven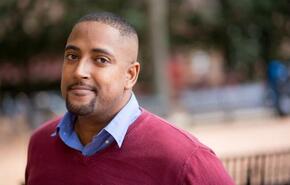 Steven Leyva was born in New Orleans, Louisiana and raised in Houston, Texas. His poems have appeared or are forthcoming in
2 Bridges Review
,
Fledgling Rag
,
Vinyl
,
The Nashville Review
, and
Prairie Schooner
. He is a Cave Canem fellow, the winner of the 2012 Cobalt Review Poetry Prize, author of the chapbook
Low Parish,
and author of
The Understudy's Handbook
which won the Jean Feldman Poetry Prize from Washington Writers Publishing…
more
The Understudy's Handbook
/
Winner of the Jean Feldman Poetry Prize
Drawing heat and music (and luscious food) from a New Orleans and Houston childhood, Steven Leyva's
The Understudy's Handbook
reveals a sensibility forged by a growing awareness of race and class: child's joy and bafflement, a Black Baltimore father's worry. A full length collection deeply focused on performance, these poems sweep the reader as into a parade, of memory, sensation, rhythm, and protest. Published in October, 2020 by Washington Writer's Publishing House, the collection has been taught at Johns Hopkins University as well as The College of Charlston
Praise for
The Understudy's Handbook
:
The Understudy's Handbook
is a collection of beautifully detailed, emotionally lush poems that comprise a portrait of a life, a bi-racial life, an American life.  These are smart, evocative poems that invite the heart and prime the head to reconcile the intricacies of our individual lives with the history that has brought us all to this moment in America.  There is sweet humor here and a simmering interrogation of what is past and what may come.  This book helps me remember why I fell in love with poetry in the first place.  
 --Tim Seibles, author of
One Turn Around the Sun
"In his book, Steven Leyva strips off the mask of history's parade in order to give an account of familial intimacy with all of its love, hurt, and worship; he strips off the mask of a Louisiana home in order to expose the wound of a Creole exile. Leyva's language will surprise you, see you, move you, and heal you, as it speaks candidly and tenderly to the troubled American heart. To read this book is to join a journey of a great heart driven by its own music from the exile of American geography to the exile of the English language."  
   --Valzhyna Mort, author of
Music for The Dead and Resurrected
"These brilliant poems stun the page, stitching a story both of heritage and invention, both looming and intimate. Leyva's rich language is a festival, gracefully navigating the space between history and what it makes of us. This collection marks the emergence of an important new voice, and is a joy to read, and re-read."
--zakia henderson-brown, author of
What Kind of Omen Am I
Nerd Volta at The Washington Independent Review Of Books
Nerd Volta: A Literary Column discussing the intersections of Nerd Culture and Poetry
Since 2018 I've written a literary column called
Nerd Volta
for the
Washington Independent Review of Books
. The column focuses on what creative writeres, and in particular poets, can learn from studying nerd culture, such as anime, animation, comics, WWE, theater, and video games. Part craft essays, part reviews , part recommendations, the articles cast a wide net, exploring inventive ways to renew a writing practice. Here is a selected list of articles with links
"The Poetics of Anime"
"Sequential Imagination: Comic-book panels, the stanza, and time"
"The Best Sandbox Ever: The suprising link between poetry and video games"
Poetry as Public Memory
Poetry as Public Memory is a co-authored project created by Steven Leyva and Dr. Jennifer Keohane. Giving public readings and presentations at the
Pennsylvannia College of Art and Design
(see the link for a recording of the presentation), as well as the Ivy Bookshop, the interdiscplinary project combines rhetorical/public memory studies with traditional literary studies. The poet Joseph Ross has been a collaborator on two of our presentations. Currently we are seeking publicaton for an academic article that examines President Biden's use of poetry in campaign material.
Execerpt from the Abstract of our article, "Hope and History Rhyme: Poetry as Public Memory" :
We argue that investigating poems as forms of public memorializing opens a unique window on the plural I. Bringing together the interdisciplinary field of public memory with insights from rhetoric and poetry, we show the possibilities of using poetry to reimagine the past in a way that requires rethinking the relationship between I/we. Recognizing the dramaturgic chorus as fundamentally operating within a collective I, we analyze how the choruses' formal elements intervene in internal inertia, and we argue that the "Choruses from
A Cure at Troy"
, offer advice to those feeling hopeless amidst intractable conflicts in a polarized society. Indeed, the interplay between the struggles of Philoctetes and the Irish Troubles provides a context for a collective search for peace, even when the prevailing drive is for individual revenge. Yet, it is the poem's rhetorical pull to recraft how these events make meaning which offers both an altering of reality and a priming to act. Since hope and history will never literally rhyme, we consider anew our individual place in a collective negotiation between hope for a better future and an imperfect past.