Work samples
"Traces of the Spirit" ○ Baltimore Museum of Art ○ 2019

"Traces of the Spirit" is a 2019 installation at the Baltimore Museum of Art in the Spring House. It's a series of separate spirit sculptures representing family, seasons, pilgrimage and Haitian folklore. The center sculpture entitled "Saint for my City" was acquired by the BMA in 2020 and is in response to perceived needs for spiritual affirmation in Baltimore. The round pedestal is filled with mica stone chips.


Memorial to Those Enslaved and Freed ○ 2022

The 2022 "Memorial to Those Enslaved and Freed" recognizes and honors Black men, women, and children who, through their forced labor, made John McDonogh, the founder of McDonogh School, a wealthy man. The public art site recognizes the aspiration and the resilience of a people who served in a capacity that made them invisible.

Mawu-Moon Goddess ○ 2019

Title: Mawu-Moon Goddess ○ Year: 2019 ○ Material: wood, acrylic, glass, beads, rope, resin on wood panel ○ Dimensions: 54" x 36" x 1.5" ○○ "Mawu-Moon Goddess" is part of a series of mixed-media works about the human condition and our relationship to realms beyond us. The creation of large-scale figural representation of mythological and religious entities personify universal concepts and are identified as Avatars.

About Oletha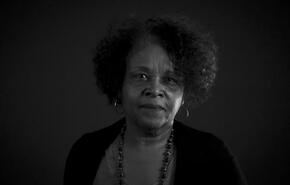 Born in Baltimore, Maryland, Oletha DeVane received her B.F.A. from the Maryland Institute College of Art and M.F.A. in painting from the University of Massachusetts in Amherst.   As a multidisciplinary artist, her social, political and spiritual concerns are the content of her art practice.  Her first major exhibition was at the Springfield Museum of Art in Massachusetts in 1976. Since then, she has been featured in numerous solo and group exhibitions locally and internationally. The Reginald…
more