Work samples
My Favorite Object

My Favorite Object (2019, 4:54). Analog video transferred to digital. "Any object, intensely regarded, may be a gate of access to the incorruptible eon of the gods." - James Joyce

Love-liesse - Ami Dang

Love-liesse (2019, 3:45)
This collaboration with musician Ami Dang was directly inspired by Ami's interest in South Asian and Middle Eastern folktales, specifically the tragic romance Sohni Mahiwal which tells the tale of forbidden love outside the rules of the caste system which ends in the lovers' deaths. Using footage Ami shot on her travels to India and 18th century paintings of the tragic romance Sohni Mahiwal, the video mimics Ami's process of making music, combining traditional methods with modern digital electronic methods, by using the grey & white "transparency" grid as a sort of digital liminal space—a space from which all creation begins—to allow further rumination and where the images from the paintings are transformed and reconstituted into a vast digital landscape to create a new vision.

FORTRESS

FORTRESS (2018, 3:11)
Hand-processed 16mm reversal film transferred to digital. Building a film about building a fortress. The journey is more important than the destination.


About Meredith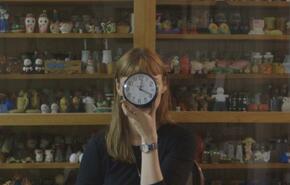 Meredith Moore is a Baltimore based artist and filmmaker. Her experimental films explore the permeable boundaries between documentary and narrative, often combining outdated analog technologies with advanced digital techniques​.
Her films have screened at Anthology Film Archives, Antimatter Film Festival, 
Athens International Film Festival, 
Baltimore Museum of Art, 
International Film Festival Rotterdam, Cosmic Rays Film Festival
, Maryland Film Festival… more