Work samples
Revelation

"Revelation" I was invited to create this painting as part of "Into the Light," a benefit show curated by Bridgette Mayer Johnson, owner of Bridgette Mayer Gallery in Philadelphia.

I am very grateful that my piece was purchased and that I was able to help support Friends of the Rail Park in their efforts to revitalize three miles of rail lines for use as a beautiful public space in Philadelphia.


Foraging Field

"Foraging Field" This painting was selected for the "82nd National Midyear Show," at the Butler Institute of American Art, Youngstown, OH, by the talented New York painter and sculptor, Peter Reginato.

I was fortunate enough to be able to travel to Ohio for the opening reception and awards at the museum and to see its wonderful collection in person. Definitely a highlight of my art career to date!
About Lynn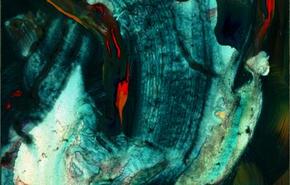 CREATING VISUAL ART IS THE MOST ENGAGING, SATISFYING AND MEANINGFUL WAY FOR ME TO LIVE MY LIFE.
What you see on this site is a small group of my work produced mostly from 2012-2022. For more information, read on.....
Lynn Rybicki studied painting at the Maryland Institute College of Art. For over 30 years she has been painting and showing her work in Maryland, throughout the region, and beyond.
Highlights of 2022
ARTSY SHARK -- summer showcase…
more