Work samples
1. Animalia Gender Variance

Animalia Gender Variance is an ongoing project exploring the gender spectrum and the natural body with the addition of fantastical head pieces. The head pieces help draw the attention of the viewer in without being self conscious of viewing the raw naked bodies, some transgender. There are 10 figures in this project so far and I'm hoping to add another 10 sculptures using models that are male born or male identified.

The Three Stages of Kristen to Kris

The three stages of Kristen to Kris. This is a direct body casting of an individual going through the transition of female born to male presenting. The first casting was done in the studio the day that they began hormone therapy. The second casting was done after being on testosterone for one year. The third and and final casting was done three months after top surgery.
About Lania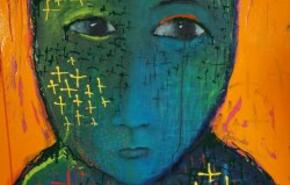 Lania D'Agostino is an avid (some would say obsessed) maker of things. Some of these creations begin with direction from an emotionally charged connection to a social issue and others are creations that evolve from a direct flow from her inner spiritual self. This intuitional direction shows mostly in her drawings and paintings as she creates figurative works of child like images with jackrabbits, toys and large eyed children. These all seem to have an underlying feeling of an emotionally…
more