Work samples
Negotiating Gun Violence in Student Screenplays (PP & Text, University Film & Video Association, 2022)

PowerPoint & Text included.

TITLE

Negotiating Gun Violence in Student Screenplays: Teaching Young Writers to Examine and Develop Characters' Unknown Needs in Their Narratives; or How to Fight 'Cool Characters Wielding Weapons' with Empathy and Understanding



BRIEF DESCRIPTION

Students love to write guns into their narratives. But just as tears can offer a less interesting shorthand to a character's sadness, guns are often a poor substitute for something much more dynamic—a character's root cause need. Through a series of repetitive exploratory questions developed by the Japanese inventor and industrialist Sakichi Toyoda, I guide young writers to excavate the interior lives of their characters through empathy and understanding, rather than defaulting to the easy, passive aggression of gun violence.



FULL ABSTRACT

In 1998, at the age of 17, I was a victim of gun violence when a man entered the video store where I worked and held my co-worker and I at gunpoint for over 15 minutes. In the subsequent years, America suffered a sharp rise in school shootings (sadly still rising), a terrorist attack, the beginning of a 20-year war in the Middle East, and the on-going political analyzation of violence in the arts, specifically in TV and film. The paper I am proposing examines the proliferation of gun violence in student screenplays and the iterative interrogative technique I've developed over the years to challenge the existence of such weapons in student work by focusing instead on characters' root cause pain, digging deeper into character development as an alternative execution of their external actions. In short, these techniques encourage young storytellers to deploy empathy and understanding as creators over stylized violence, in pursuit of more compelling, authentic, and accessible human drama.

Nemesis (Best Dark Comedy Short Screenplay, Houston Comedy Film Festival, 2020)

Winner of the Houston Comedy Film Festival for Best Dark Comedy Short Screenplay, Nemesis is about a bored middle-aged man suffering a mid-life crisis hires a middle school teacher to be his nemesis.


About Ross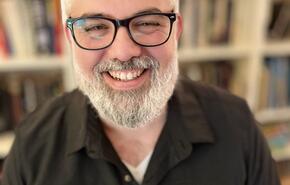 Ross Angelella is an award-winning educator, screenwriter, and novelist. He is the author of the irreverent and twisted coming-of-age novel Zombie (2012). His short fiction has appeared in various journals, including Hunger Mountain, Sou'wester, The Literary Review, Coachella Review, and Southampton Review. His original screenplays have won numerous awards, most recently "Best Comedy Short Script" at the Houston Comedy Film Festival (2020) and "Best Characters in a Screenplay" at the… more