About Ellie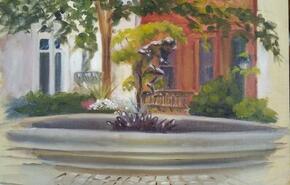 Ellie has a B.F.A. in painting and drawing from Maryland Institute College of Art and a M.A.T. in museum education from George Washington University.
Being creative and promoting the arts wherever and whenever possible is important for her growth as an artist.  Ellie has coordinated art exhibits that highlighted the creativeness of Maryland Women for the Maryland Women's Center and an annual student featured exhibit for Havre de Grace Art Students at Arts by the Bay.
Her…
more
Restore and Recover
Maryland's DNR is working to restore and recover many of the rivers, streams, creeks and runs that flow in and through Maryland out to the Chesapeake Bay.  I have been working on a series of paintings to depict these waterways and the surrounding landscape.  One of the pleasures of painting en Plein Air is to see nature in all its glory.