Work samples
Chaetura pelagica (chimney swift) Habitat Destruction 2022

CHAETURA PELEGICA (CHIMNEY SWIFT) HABITAT DESTRUCTION (2022). This installation (at my studio in the Mill center in Baltimore) features a mock wake for the impending destruction of the Book Bindery chimney (Elm St., Hampdon), which is a biomimicry habitat for the migrating swifts in spring and fall. The "coffin" used was found on the banks of the Stony Run stream which flows nearby.

BEE HOUSE (2019)

BEE HOUSE; Mixed media, 23" by 23"(2021). This box construction consists of bee tubes as used in solitary bee houses along with paintings, drawings and polaroids of work associated with solitary bees, specifically mason and leaf cutter bees.
The box was shown at the Peale Center as part of the Baker Off the Web show and is now in a private collection.
About ashley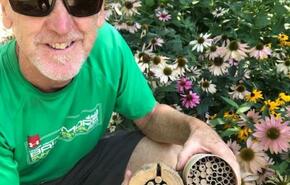 Ashley Kidner is a Baltimore based environmental artist. Kidner works with native plants, wood, water and stone, in addition to watercolors and "box construction". Kidner's work  reflects issues such as climate change, habitat lose and the decline of pollinators, directly responding to the natural world and  the changes man has forced upon it.
  Kidner was born in Norfolk, England and grew up on a farm in the hamlet of Thwaite St. Mary. Kidner studied and worked in Geology while living in…
more