Work samples
"Asking for PrEP" from VOICEMAIL POEMS

"A poem from You Cannot Save here, recorded for Voicemail Poems, an audio-based literary journal that publishes lo-fi recordings of poets calling in to read their work in their own voice.

Poetry for the end times_ 'You Cannot Save Here'.mp3

Tonee discusses You Cannot Save Here and reads from the book on WYPR's On The Record.

"You Cannot Save Here" by Anthony Moll for VOICEMAIL POEMS

The poet reads "You Cannot Save Here," a poem included in the manuscript of the same name, for Voicemail Poems, an online magazine and podcast that highlights the intimate and raw voices of new and established writers of all styles.

Excerpt from Out of Step: A Memoir

The author reads "Cedant Arma Togae" an essay included in Out of Step: A Memoir. Recorded for Humanities Conncection, a product of Maryland Humanities Council and WYPR.
About Tonee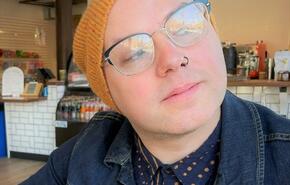 Tonee
(née Anthony)
Moll is a Queer writer and educator.
Their debut memoir, Out of Step, won a Lambda Literary Award in 2019 and the 2017 Non/Fiction Prize. It is available now from The Ohio State University Press. Out of Step was also included on the 2019 Over the Rainbow List, the annual bibliography of notable LGBTQ+ titles from the America Library Association.
Moll's most recent book is You Cannot Save Here, which won the 2022 Jean Feldman Poetry Prize from…
more