Block title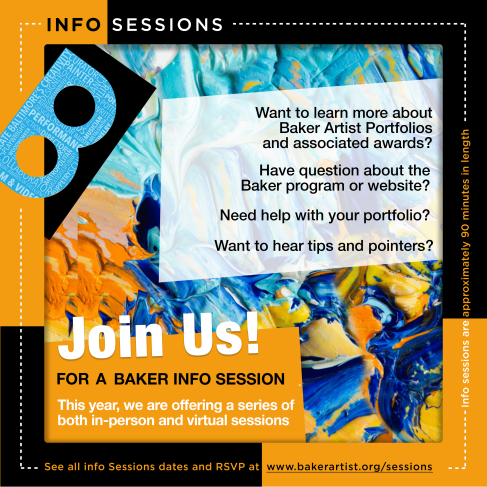 Looking for TONIGHT'S (1/4/23) Zoom Link? Please click here. 
BAKER ARTIST POTFOLIOS
FREE Online Portfolio
$90,000 in annual awards
Discover other artists in the region
Be part of the Baker community!
INFO SESSIONS
Want to learn more about the Baker Artist Portfolios and associated awards?
Have questions about the Baker program or website?
Need help with your portfolio?
Want to hear tips and pointers? 
Join us for a Baker Info Session!
This year, we are offering a series of both in-person and virtual sessions.
Info sessions are approximately 90 minutes in length, including time for questions.
UPCOMING INFO SESSIONS
Wednesday, January 4, 6pm (Virtual, Zoom Link here)
Past Sessions
Tuesday, November 8, Noon - Motor House (120 W. North Ave., Baltimore)
Wednesday, November 16, Noon - Open Works (1400 Greenmount Ave, Baltimore)
Monday, November 21, 6pm  - Cultural Center at the Opera House Havre de Grace (121 N. Union Ave, Havre De Grace, MD)
Saturday, December 10, 3pm - Creative Alliance ( 3134 Eastern Ave., Baltimore)
Thursday, December 15, 5pm - Howard County Center for the Arts (8510 High Ridge Rd, Ellicott City, MD)
Virtual:
Monday, November 7, 6pm 
Thursday, December 1, 6pm  
Monday, December 5, 3pm 
Wednesday, December 7, Noon 
Wednesday, December 21, 6pm 
Be Part of the Art
Create your portfolio or curate a collection of your favorite work.
Already registered? Login