Block title
Saturday, October 16, 2pm - 4pm
WATCH LIVE right on this page!
Celebrate Baker Artist Award winners, hosted by Contemporary Arts, Inc.
Featuring Award Winning Baker Performing artists:
Carl Grubbs - Jazz, Alto Sax
Ellen Cherry - Multi-Disciplinary
Todd Marcus - Jazz, Bass Clarinet
Joyce J. Scott - Vocals
Peter Minkler - Viola
Nicole Martinelli - Dance
Bashi Rase - Multi-Disciplinary
Katherine Fahey - Multi-Disciplinary
Von Varga - Music Creator
Scott Patterson - Music
Vincent Thomas - Dance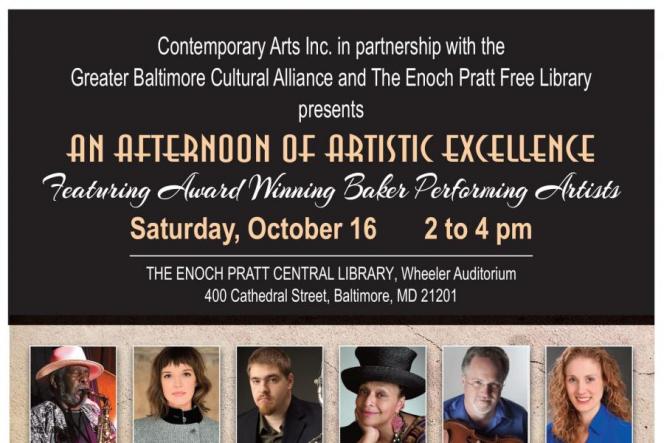 Be Part of the Art
Create your portfolio or curate a collection of your favorite work.
Already registered? Login
Upcoming Events
Baker Info Session (12/1) VIRTUAL
Baker Info Session (12/5) @ Coppin State University
Coppin State University, 2500 W North Ave
3pm-4pm