Block title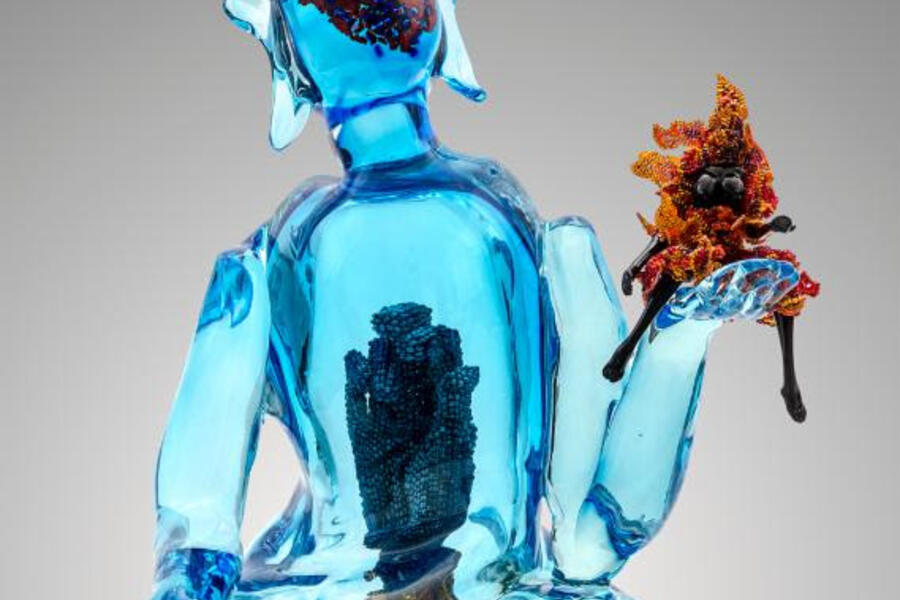 2016 Baker Artist Awardee Joyce J. Scott selected as a 2016 Macarthur "Genius" Fellow.
Joyce J. Scott is a jewelry maker and sculptor repositioning craft, and in particular beadwork, as a potent platform for commentary on social and political injustices. In handmade works ranging from elaborate, over-sized neckpieces, to two- and three-dimensional figurative sculptures, to installations, Scott upends conceptions of beadwork and jewelry as domestic or merely for adornment by creating exquisitely crafted objects that reveal, upon closer examination, stark representations of racism and sexism and the violence they engender.
"The Sneak" (1989) depicts a moment of domestic violence that has ended in murder, and the Election Day series features images of President Obama surrounded by faces expressing joy, fear, and anger. The Mammy series makes manifest the extreme sacrifices of the African American domestic servant during slavery and beyond, and several smaller pieces depicting lynching culminate in a large-scale installation entitled Lynched Tree (2011–2015). Through her adaptation of the traditional peyote stitch technique—a method of free form or off-loom beading—Scott achieves remarkably complex, freestanding sculptural forms with very little or no internal armature. Other works reflect Scott's sly, satirical humor, as in the depiction of two parents who have been passing as white feigning shock and dismay at their dark-skinned child in "Ancestry/Progeny" (2008). The humorous aspects of Scott's beadwork are intertwined with performance art pieces she has created throughout her career, many of them as part of the duo the Thunder Thigh Revue, that satirize representations of and stereotypes about the black female body.
Scott continues to push the expressive potential of beading in her recent work. She integrates her trademark beadwork with blown glass sculptures in pieces created in collaboration with artisans in Murano, Italy, and she is currently at work on an outdoor installation in homage to Harriet Tubman that will be of unprecedented scale. Scott's diverse and adventurous body of work blurs the boundaries between fine art and craft and challenges viewers to confront the darker aspects of human nature in scenes both contemporary and historical.
Joyce J. Scott received a B.F.A. (1970) from the Maryland Institute College of Art, an M.F.A. (1971) from the Instituto Allende in San Miguel de Allende, Mexico, and training from her mother, Elizabeth T. Scott, who was an internationally recognized fiber artist. Her work has appeared in solo and group exhibitions at the Baltimore Museum of Art, the Museum of Art and Design, the Fuller Craft Museum, the Smithsonian American Art Museum, and the Metropolitan Museum of Art, among others, and it is held in the public collections of numerous national and international museums.
Be Part of the Art
Create your portfolio or curate a collection of your favorite work.
Already registered? Login