Block title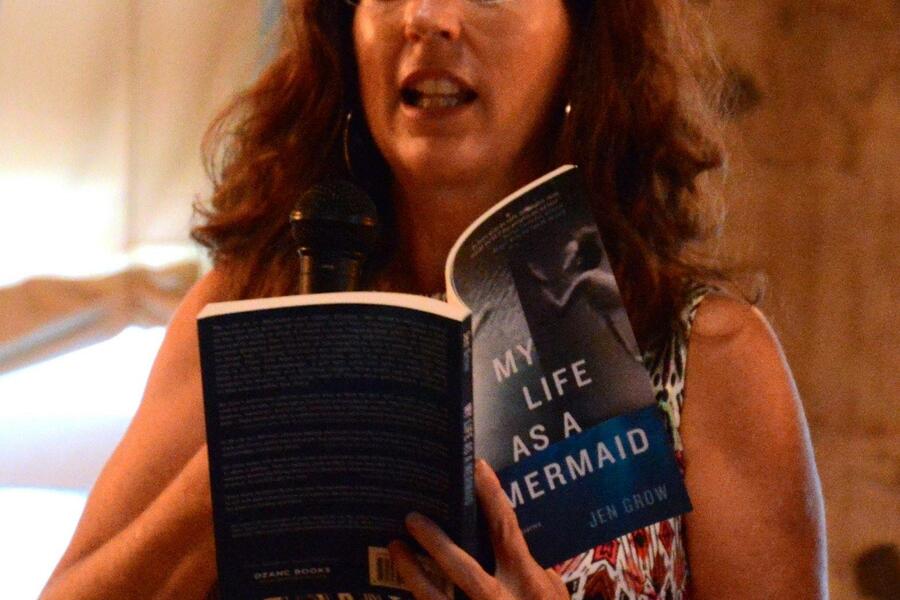 CityLit Studio: Writers On Craft, Creativity & Community
Thursday, October 27, 2016 from 6:30 PM to 8:00 PM (EDT)
Reserve your FREE ticket here!
Get a behind-the-scenes look at how writers think, and learn what makes for crafting a great story, in CityLit Project's first-ever program dedicated to the people and processes behind the best literature being created in Baltimore today!
And it's free, thanks to Free Fall Baltimore!
CityLit Studio: Writers On Craft, Creativity & Community is an evening of readings and conversation on the writer's craft. The presentation includes readings by two authors in different genres, information and discussions of key aspects of craft to improve your writing, and the importance of finding artistic communities. Emerging and serious writers, along with the interested general public, get a unique look behind the writing and process of two of Baltimore's rising literary stars: Sheri Booker and Jen Grow.
SHERI BOOKER: Sheri Booker is an author, poet and educator from Baltimore, Maryland. She is the author of the memoir Nine Years Under: Coming of Age in a Inner City Funeral Home, winner of the 2014 NAACP Image Award for Outstanding Literary Work from a debut author. She was recently nominated for the prestigious Hurston/Wright Legacy Award in the nonfiction category.
Sheri has been featured in The New York Times, Essence Magazine, The Baltimore Sun, The Word Network, TV ONE and NPR. Recently, Sheri opened Book Her Consultants, LLC, an educational consulting firm that specializes in girls programming and development and Let Me Be Great, where she mentors future authors. She has taught journalism in South Africa and a course she designed for middle school girls called Mind, Body, and Soul in Baltimore. Sheri was named one of the The Baltimore Sun's "50 Women to Watch" and graced the cover of The Sun Magazine. She holds an MFA in Creative Nonfiction from Goucher College and B.A. in Political Science from Notre Dame of MD University. She currently teaches writing at Morgan State University.
Sheri will talk about "Embracing the Me in Memoir."
Becoming the main character in your own writing can often be intimidating. Sheri will discuss how to identify your voice and master it on the page, write the things you are most afraid to share, and find the courage to tell the story you were born to write. www.sheribooker.com
JEN GROW: Jen Grow's debut collection, My Life as a Mermaid, was the winner of the 2012 Dzanc Books' Short Story Collection Competition. She also received the 2016 Mary Sawyers Baker Prize for her work. Her fiction and nonfiction have appeared in The Writer's Chronicle, Other Voices, The Sun Magazine, The GSU Review, Hunger Mountain, Indiana Review, and many others including the anthologies City Sages: Baltimore and Amid the Roar: An Anthology of Towson University Authors.
Jen's received a Rubys Award for the project "My Father's House" (to be exhibited by Stevenson University in 2017); two Individual Artist Awards from the Maryland State Arts Council; and her stories have earned nominations for Best New American Voices and a Pushcart Prize. www.jengrow.com
Jen will explore "Dynamic Dialogue: Techniques to Add Life and Depth to Your Writing."
Flat dialogue can kill a story and make its characters seem lifeless. In this craft talk, Jen will discuss the art of how to use (and not over-use) dialogue techniques that will revive your narrative, give your characters greater dimension, and create a more compelling story. This is a hands-on discussion, so be prepared to write. There will be examples and hand-outs to illustrate how dynamic dialogue can enhance your work so it gets noticed by editors and publishers.
CityLit Project wishes to thank Eubie Blake Cultural Arts Center for their gracious donation of a venue for this event.
Since 2004, CityLit Project has nurtured readers and writers at its two signature events, the CityLit Stage at the Baltimore Book Festival and the annual CityLit Festival, which is a daylong event of readings by local, regional, and nationally acclaimed authors, as well as panels, and workshops. This year the Maryland State Arts Council partners with CityLit Project to manage Poetry Out Loud, a national competition co-created and cosponsored by the National Endowment for the Arts and The Poetry Foundation in which 45 Maryland high schools engage with poetry and the art of recitation. www.citylitproject.org
Free Fall Baltimore is made possible by the Baltimore Office of Promotion & The Arts, an independent 501(c)3 non-profit organization, and the generous contributions of BGE, The Abell Foundation, National Endowment for the Arts, American Trading & Production Corporation (Atapco), The Henry and Ruth Blaustein Rosenberg Foundation, and the Joseph and Harvey Meyerhoff Charitable Funds.
For information about other Free Fall Baltimore events: www.freefallbaltimore.org
Be Part of the Art
Create your portfolio or curate a collection of your favorite work.
Already registered? Login