About Emily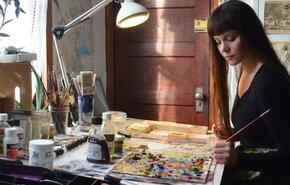 I am a Baltimore-based oil painter with a love for ecology, entomology, and patterns. I studied painting, illustration, and art history, at the Hartford Art School in Connecticut and graduated in 2006 with a Bachelor of Fine Arts.  I am currently working on a series of oil paintings on vintage wallpaper of nature-based imagery in the style of Trompe-l'œil. I hope to bring our relationships with various species into a more prominent position in the human psyche… more
Small Creatures
These oil paintings on vintage wallpaper are part of my 

ecologically 

themed series including insects, birds, and plants.  I believe

 

our surrounding environment holds a treasure trove of symbolic and decorative potential.  Whether it be sentimental connections, cultural folklore, or passive observation, humans have fostered relationships with other species throughout history. 

 

With my work I am honoring these 

connections; inspiring people to embrace the beauty and diversity of the living creatures around us, and to celebrate their important role in our lives.



This series allows small creatures to proliferate in homes and bring awareness to their beauty and importance.
Feathered Friends
Birds, known to symbolize freedom and perspective, are honored as house guests painted in perched, regal poses.
House Plants & Fungi
The energizing nature of living plants and fungi is revered with this never-dying series.